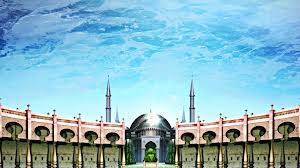 Black Iron Castle is a large fortress that has a dungeon underneath. The walls of the castle aren't actually made of black iron, but the castle itself shows the dark beauty of cold metal.  Two small vendors cover the entrance as you walk in.  On one side you can see several different Crystals and on the other you see a large assortment of ingredients for cooking.  Over the large castle gatehouse you can see an empty banner for a guilds emblem to be displayed.
==
Guild Owner == There is currently no guild that owns Black Iron Castle.  If you wish to purchase this property you will receive a small portion of what the vendors and inns make through taxes. You will also be able to customize the area with production villages.  Please see an admin for information about purchasing this location. 
Crystals Merchant
Ad blocker interference detected!
Wikia is a free-to-use site that makes money from advertising. We have a modified experience for viewers using ad blockers

Wikia is not accessible if you've made further modifications. Remove the custom ad blocker rule(s) and the page will load as expected.