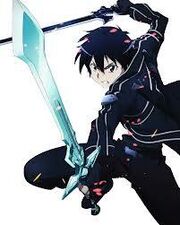 Dual Blades
(二刀流 Nitōryū, lit. Two Sword Style) is a «Unique Skill» in Sword Art Online. The player with the fastest reaction time gains this skill. It was awarded to
Kirito
for being judged to have the fastest reaction speed in the game, and is meant to be given to the person who will stand against the final boss. In addition, it also has its own set of Sword Skills unique to it. Kirito wields Dark Repulser and Elucidator for this strongest sword set.
Techniques
Edit
Kirito estimates there are slightly more than 20 techniques to the Dual Blades skill. In the series, Kirito has been seen using the following:
Double Circular: 2-hit combo
Starburst Stream: 16-hit combo
The Eclipse: 27-hit combo
Timing Conditions
Edit
Ad blocker interference detected!
Wikia is a free-to-use site that makes money from advertising. We have a modified experience for viewers using ad blockers

Wikia is not accessible if you've made further modifications. Remove the custom ad blocker rule(s) and the page will load as expected.