Illfang's Boss Room is the only place where
Illfang the Kobold Lord
spawns. Illfang only resides in this room as well as its minions: The Ruined Kobold Sentinels.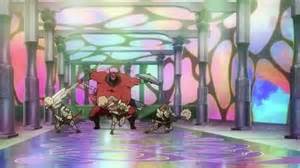 Appearance Edit
The room is at the top of the large tower labyrinth on the First Floor of Castle Incrad. It is protected behind two large doors. Once opening the doors, the lights power on, revealing a large room with tall ceilings. The ceiling, walls, and the floor are plastered in strange blob shapes with various colors shining in them. The floor reflects these lights all across the room. At the opposite end of the room, Illfang's throne stands. Illfang sits on the throne, awaiting its first challengers to fight.
Illfang fully intends to win and kill all who dare to oppose him in his own room.
Ad blocker interference detected!
Wikia is a free-to-use site that makes money from advertising. We have a modified experience for viewers using ad blockers

Wikia is not accessible if you've made further modifications. Remove the custom ad blocker rule(s) and the page will load as expected.