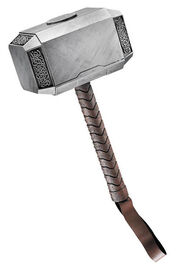 Mjölnir
 is a «Unique Skill» within Sword Art Online.
As there is no magic in SAO, the player with this skill doesn't gain any power of lightning, however the hammer does have the ability to temporarily stun anyone/thing hit by the hammer. This 
«Unique Skill» can be parried or blocked, but it temporarily disables the Parry and Block Skills.  The hammer is presumed to be very heavy and easy to dodge due to its huge size and weight.  Getting hit by this will almost ensure a devestating blow.
These effects are drastically reduced against Dungeon Bosses.
Named after the hammer wielded by the Norse god Thor
Ad blocker interference detected!
Wikia is a free-to-use site that makes money from advertising. We have a modified experience for viewers using ad blockers

Wikia is not accessible if you've made further modifications. Remove the custom ad blocker rule(s) and the page will load as expected.