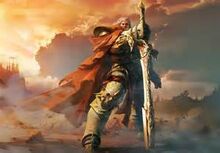 Sir Lance Victor is the Field Boss that guards the labyrinth to Floor Five. One of the few bosses that actually appears human, he resembles the ideology of the perfect knight.
Structure
Edit
Sir Lance Victor is six foot five with golden-plated knight armor. A red, torn cape is whipped over his right arm and his weapon of choice is a greatsword. His physique is strong, and he can think of strategies to evade enemies. His technique with swords is excellent, and his attacks are usually swift and unmatched.
Sir Victor Brigade
Edit
To enhance the players' abilities to combat multiple enemies at once, Victor is accompanied by a large army of various soldiers who will fight by his side. There are many components to the army, and various types of enemies to battle.
Brigadier Commander
Edit
The Brigadier Commander manages and coordinates all available units of the Sir Victor's Brigade. They are resilient, strong, and capable of utilizing small means of intelligence to outwit and confuse their attackers.
Brigadier Lance Rider
Edit
Brigadier Lance Riders mount large horses and use a long, sharp-pointed lance. They are humanoid, and bare blue-colored armor on both themselves and their steeds. Riders are the fastest of any of the soldiers in the army, however, they are also the most vulnerable. Their range of attack is severely limited to whatever target is in front of them. Due to this weakness, a well placed thrust could easily befall the horse and cause the rider to crash. To compensate, they establish lines as to widen their attack ranges.
Brigadier Soldier
Edit
The Soldier is the most common of all the enemies to face. They are relatively slow, weak, and easy to defeat in one hit (regardless of level). Though they are easy to defeat, in groups they could pose a slight threat to the player facing them. Chain killing is the recommended method to thinning out the numbers. The armor that they wear is extremely weak and can be destroyed in one hit. They, however, will charge the enemy blindly and not stop attacking until either the player dies, or they die themselves.
Ad blocker interference detected!
Wikia is a free-to-use site that makes money from advertising. We have a modified experience for viewers using ad blockers

Wikia is not accessible if you've made further modifications. Remove the custom ad blocker rule(s) and the page will load as expected.